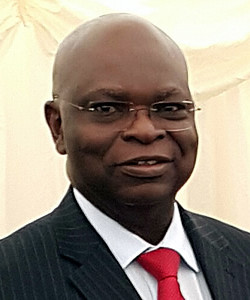 Dr. Segun Aina,
OFR
Chairman, CEO
Dr Segun Aina had extensive work experience in the financial services sector including his service as Executive Director, Technology and Operations of Ecobank and later Chief Executive Officer of a Bank reputed for its innovative Information Technology oriented services. He was President and Chairman of Council, Chartered Institute of Bankers of Nigeria (CIBN), President West African Bankers Association Nigerian Chapter, a Member of the Canadian Council on Africa and the Toronto Board of Trade, in addition to other local, community, State, National and international leadership roles.
Dr. Aina holds a Bachelor's degree in Accounting and Master's degree in Banking and Finance and fellowship of several globally recognized professional bodies including the London Institute of Banking and Finance. In addition, he attended executive programs in reputable business schools such as INSEAD, France and IMD Switzerland.
Dr Aina played pioneering and incubation roles in Nigeria's finTech ecosystem starting with his visionary role in creating and becoming the founding Chairman of Vatebra Ltd, a leading Nigerian finTech with outreaches outside of Nigeria. He subsequently became the Pioneer Chairman of Splashers Technologies now member of Venture Garden Group, a finTech accelerator. Later he founded Fintech Associates Ltd, a financial and technology solutions provider which became a member of the Global Fintech Association, the first Nigerian organisation to become a member of that body. He initiated the promotion of Fintech Association of Nigeria with membership of the Global Fintech Hubs Federation.
Dr Aina sits on many corporate Boards and has received several Awards and recognitions, including honorary doctorate degrees Doctor of Science, Honoris Causa from two Universities and Nigerian National Honours of Officer of the Order of the Federal Republic (OFR).
Dele Adekoya
Principal Associate & Director

---
He is a seasoned professional with over 25 years of financial services experience at executive management level. His versatility stands out in the areas of International Trade, Banking operations, Retail Banking, Product Monitoring, Control, Development and Enterprise Risk Management.
He holds a Bachelor's degree in Economics as well as a Master's degree in Banking and Finance and emerged as the best graduating student in his class.
Seun Famoriyo
Engineering Business Manager

---
She is an accomplished Engineer with unique and diversified Engineering Business Management experience in Canada, United Kingdom and Nigeria.
Mrs. Famoriyo has a Master's Degree in Engineering Business Management from the Warwick Manufacturing Group at the University of Warwick in Coventry, UK.
Dr. Bisi Aina
Director & Solutions Architect

---
He is a result-driven IT professional an Oracle Certified Application Developer (OCP) with extensive experience in implementing Enterprise Resource Planning solutions – ERP and other specialized applications. Possesses an in-depth understanding of emerging markets technology requirements. Has extensive experience in leading ERP implementation solutions. Successfully planned and directed many activities that have provided innovative information technology solutions in North America (USA & Canada) and Africa.
The Executive Board is supported by a team of well-trained managers and officers with diversified skills and experiences. In addition, Fintech has a long list of external associates and partners who participate in major projects on need basis.